Methods, Tools and Techniques for Decision Makers
Definition, Principle, Role and Limits of Executive Dashboard
E
xecutive Dashboard is not just a mere measurement tool. It is primarily a multi-function instrument, indispensable guarantor of the implementation of the improvement process according to the principle of the French Tableau de Bord.
Executive dashboard is indeed the key component of mastered performance management.
Mastering the design of executive dashboards is a determining factor of successful implementation of a winning strategy. On the condition that the role and scope of this instrument of decision support are understood beforehand.
A performance dashboard is not a checking instrument anymore.
It is performance measurement tool, a key to progress approach.
What is performance? How to measure performance? Why measuring performance?
Fig1: Executive dashboard example
What are the performance measurement perspectives to lead the reactive company?
Five recommendations to choose a reliable and really pertinent key performance indicator KPI.
Methodology to Succeed a Business Intelligence Project
GIMSI is a well proven method for handling in 10 stages all the phases of cooperative performance dashboard project. Selecting goals, choosing pertinent key performance indicators, building a cooperative performance dashboard.
This book presents a practical and concrete approach for defining new performance indicators that help decision-makers run their businesses in this age of urgency and uncertainty. Apart from the cost factor, it enables assessments of created values to be made (clients, shareholders, employees, partners, public...)
The 4 Main Phases of the Gimsi Methodology.
The methodology suggested in this book uses the most recent principles of designing executive dashboards to adapt them to the managers needs. Rapidity and completion at low cost are the two top priorities.
Share this...
---
Toutes les pages de ce site sont sous

copyright

Alain Fernandez 1998-2014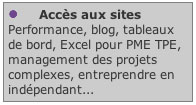 ©1998-2014 NODESWAY
Privacy
Legal
---